by Robert Scheer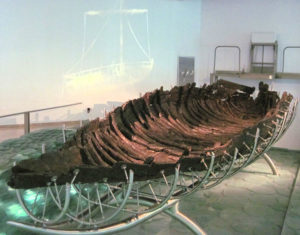 A 2000-year old boat, now on display at the Yigal Alon (Man in Galilee) Museum, is high on the "must-see" list for most visitors to Israel's Sea of Galilee. The ancient sailing vessel was discovered on the same sandy shoreline where Jesus converted His first Apostles into "fishers of men" two millennia ago.
Yuval Lufan, a gardener at the nearby Kibbutz Ginosar, found the boat with his brother Moshe in 1986, during a drought when the level of the sea was much lower than normal. Like many Israelis, Yuval is an amateur archaeologist, and he had previously found some Roman coins and ancient nails on the shore near Midgal (known in the Bible as Magdala, the birthplace of Mary Magdalene.) On the day of his great discovery, Yuval saw a dramatic double rainbow in the sky over Galilee, a sign he believes foretold that he might find something important.
It was not long after Yuval and his brother started digging with their hands in the mud, exposing some ancient wooden timbers, that they alerted the Israel Department of Antiquities and Museums about their discovery. The boat's distinctive mortise-and-tenon joint construction led experts to believe it was made during the time of Jesus. Radio-carbon dating later confirmed its age as from between 100 B.C.E. and 100 C.E.
Because its waterlogged timbers were extremely fragile, it was a difficult eleven-day task to rescue the boat. Hundreds of volunteers from Kibbutz Ginosar and nearby villages helped the team of archaeologists encase the boat in a special Fiberglas/polyurethane cocoon and float it to the Yigal Alon Centre, where it underwent a ten-year process of conservation in a specially-built pool.
The boat, 26-1/2 feet (8.2 meters) long and 7-1/2 feet (2.3 meters) wide, was built using seven types of wood. It probably had a single square sail and two pairs of oars, and was likely used for fishing and carrying passengers and cargo across the Sea of Galilee. According to the historian Josephus Flavious, such boats commonly held up to fifteen people, and they were used to fight a naval battle in 67 C.E. between Jewish rebels and Vespasian's Roman forces. In the Bible (Mathew 8, 1-2) it is written: That same day Jesus went out of the house and sat beside the sea. And great crowds gathered about Him, so that He got into a boat and sat there; and the whole crowd stood on the beach.
Bill Scheinman, Director of Public Relations for Kibbutz Ginosar, does not like their ancient vessel to be called the "Jesus Boat." He feels that most of the Christian pilgrims who throng to Galilee are content in knowing that Jesus may have stood on its deck, but it will never be known for certain whether or not He did.
Surprisingly, both Bill Scheinman and Yuval Lufan say that if anyone should find another ancient boat, the best thing would be to leave it where it is. The 1986 dig and subsequent preservation process were both expensive and time-consuming. "Almost no work went on in the kibbutz during the eleven-day dig," Scheinman said. Nevertheless, Yuval is proud of the benefits his discovery has brought to the area. The dig itself helped bring the community together, and the boat now attracts tourists like a powerful magnet. Since the wooden boat was discovered, a new industry has developed — wooden tourist boats. A fleet of twenty double-size replicas of the ancient boat now take visitors onto the Sea of Galilee from docks in Tiberias and nearby Capernaum.
Within a few kilometres of Ginosar are three other sites associated with Jesus' ministry in Galilee: At the ancient village of Capernaum are the remains of a synagogue where it is believed Jesus preached, the Mount of Beatitudes is said to be where He gave the Sermon on the Mount, and at Tabgha is a church commemorating the Miracle of the Loaves and Fishes.
The Kibbutz Ginosar offers both four-star and more modest accommodations for tourists. Rooms at the Nof Ginosar Hotel include a lavish Israeli buffet breakfast. A more rustic motel, the Ginosar Inn, on the kibbutz grounds, uses buildings that were formerly children's residences.
A recommended restaurant in Tiberias is The Decks at Lido Beach, specializing in freshly-baked bread and fish as it was cooked during the time of Jesus.
See more information about the ancient "Jesus Boat" in this video…
One of the companies that sails wooden tourist boats on the Sea of Galilee, Holyland Sailing Ltd., operates a website at http://www.jesusboats.com/