by Rev. Karen Tate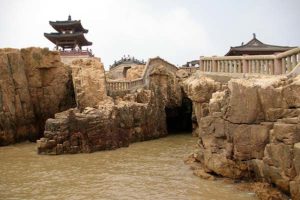 Long ago, Goddess traversed the Silk Road on camelback, leaving her mark on textiles, cliff walls and caravansaries along the way. The Silk Road was the main artery of culture from China in the east to the Mediterranean in the west. She traveled with many nomadic peoples like the Sauromatians, Saka, Samarians, Scythians, and proto-Celts as they migrated east. She rode on horseback with warrior queens and priestesses of the 13th century Golden Horde and along with descendants from Genghis Kahn, as the Mongols acquired one of the largest known empires in history. A recent archaeological discovery of kurgan burial mounds has revealed many of these early nomads that traversed the Eurasian steppes in far western China worshiped the Earth Mother. Researchers believe these nomads were descendants and contemporaries of the women who inspired tales of the Amazons while cultural diffusionists make the case that these women warriors actually were the Amazons referred to by Herodotus.
Pu Tuo Shan Sacred Island
Kwan Yin (Guanyin), called Holy Mother of Compassion and Savioress, has one of her most sacred sites on Pu Tuo Shan, a small island in the East China Sea. At first glance it might not seem that Buddhist and Goddess spirituality combine in a harmonious blend, yet Chinese history reflects a people who have had their trials and tribulations and through their suffering, it was the female bodhisattva Kwan Yin in whom people put their faith. It was Kwan Yin that women turned to more often than men. She was believed by the devoted to understand their struggle and pain, and lent strength, love, and compassion. Kwan Yin would be their protectress at the birthing bed, or in their struggle for freedom and recognition. It was she who would bring their husbands back from war or the sea. Kwan Yin, who originally came to China as the androgynous male bodhisattva Avalokitesvara (Tibetans regard the Dalai Lama as this bodhisattva's incarnation), was said to have been born of a ray of light shining from the right eye of Amitabha, the Buddha of Infinite Light. In time, Kwan Yin was later recognized as a female bodhisattva or Goddess. Chinese society and culture are overwhelmingly patriarchal and women are usually only considered useful or whole after they have given birth. Kwan Yin offered women solace. Her popularity grew exponentially and it is said that by the 9th century there was a Kwan Yin statue in every monastery in China. Pu Tuo Shan, meaning "beautiful white flower" is one of the four sacred Buddhist mountains, located on the island of the same name, and sacred to Kwan Yin. Here she is called the Goddess of the Southern Sea and patroness of fishermen. Images of her associated with Pu Tuo Shan show Kwan Yin crossing the sea seated on a lotus, or with her feet on the head of a dragon.
An island of beautiful beaches, caves, valleys, monasteries, and temples, it is an idyllic getaway for those on the Chinese mainland. People come here from all parts of Asia on pilgrimage to honor and pray to Kwan Yin. Many Buddhist temples are located on Mount Pu Tuo, but the three most important are Puji Temple, the main temple for Kwan Yin worship, Fau Temple, famous for its architecture and wood carvings, and Huiji Temple on the peak of Foding Hill which exhibits a large collection of ancient carvings of Kwan Yin. The peak of Pu Tuo Shan is reached by climbing 1,060 stone steps, or by taking a cable car. A new temple to Kwan Yin, called Nan Hai Guan Yin, or South Sea Guan Yin, proudly honors the Goddess with a giant statue, exquisite stone carvings, and murals that explain the history of Kwan Yin.
Guanyin is regarded by some as having pre-Buddhist roots in the more archaic Chinese deity Nu Kwa or Nugua who created the Chinese people and the natural order of the universe. She was sometimes depicted as half snake and half woman, creating her brother/consort Fu Xi from her own body, thus when shown intertwined they resemble the kundalini symbol or caduceus. According to Merlin Stone, images of Kwan Yin riding upon a dolphin may be related to the fish-tailed images of Nu Kwa. Both Kannon and Kwan Yin have been associated with carp or salmon, and other fish images, which are seen as fertility symbols. In the Chinese cosmology myths, mountains are sacred pillars that separate heaven from earth and in the "Reparation of Heaven" myth; Nu Kwa repaired the broken sky and used the four feet of a large turtle to keep the heavens from falling onto the earth. The feet of the turtle became the four sacred Buddhist mountains, of which one is Pu Tuo Shan, thus she effectively restored harmony to all natural life. Kwan Yin is also associated with the young Miao Shan, a devout Buddhist who was killed by her father in a fit of rage because she did not want to marry, wishing instead to join a nunnery. After death her soul was returned to earth where she attained enlightenment, and spent her days relieving the suffering of those in distress. Miao Shan was believed to live on Pu Tuo Shan Island for nine years (as was Kwan Yin) where she healed and saved sailors from shipwrecks.
Kwan Yin is believed to have 33 manifestations; some aspects have 11 heads or 1,000 hands and eyes, enabling her to hear and see the cries of the needy and answer their prayers. Devotees of Kwan Yin believe effective prayer to her consists of repeatedly chanting her name or the Avalokitesvara mantra of "Om Mani Padme Hum" which translates to "Hail to the jewel in the lotus." Images of Kwan Yin show her in various postures, most of which have her tall and slender, barefooted, in flowing robes, holding a vase containing amitra, or the dew of compassion, which she pours forth upon humankind. The amitra is said to have the power to extend life, cure, and purify body, mind, and speech. Sometimes she is sitting on a lotus flower, fish, elephant, or upon a lion-like beast. She may have several heads and many arms. She can be nursing a baby or holding a child. Sometimes her male and female assistants Lung Nu and Shan Ts'ai are at her feet on either side of her. Some of her symbols are a scroll of truth, a jar of healing water, a spray of willows, the holy jewel of aspirations, and she also has a nude form. Kwan Yin has been compared most often to Mary, the Virgin Mother of Jesus, or the Egyptian Goddess, Isis.
Rebecca Love, a teacher in China, comments that the vast majority of Chinese do not practice or have little interest in religion though some worship nature, meditate and pray to the Goddess of Mercy. Female statues everywhere in China are identified as The Motherland. Statues of Kwan Yin are often found on quiet hillsides near villages that have a willow branch (classic symbol of womanhood), and water from a sacred spring for self-blessing at the sacred site. The water blessing is believed to have the power to save lives and bring good fortune.
Getting to Pu Tuo Shan Island
When in Shanghai, from the Shanghai Shiliepu Harbor near the Bund, the main passenger harbor of Shanghai, there are morning buses that take visitors to Luchaogang Harbor. Daily shuttle boats from Luchaogang Harbor access Pu Tuo Shan Island, located approximately 155 miles (250 km) to the east of Shanghai, across Hangzhou Bay in the East China Sea. This trip takes about 3.5 hours. There is also a night boat that takes about 12 hours to reach the island departing from Shiliepu Harbor. Once on this small island of only 5 square miles (12 sq. km), located in the Zhoushan Archipelago of Zhejiang Province, several bus routes take visitors to the main sites. Hotels are available on Pu Tuo, as are accommodations in private homes, which can be arranged upon arrival at the island.
About the Author
Karen Tate, independent scholar of the Sacred Feminine is a published author, sacred tour organizer, ordained minister and lecturer.  Her recent book, Sacred Places of Goddess: 108 Destinations conveys the herstory of Goddess Spirituality across continents and cultures.  Her new book, Walking An Ancient Path, was published in April 2008.  If you would like to contact the author, please go to www.karentate.com