Text and photos by Robert Scheer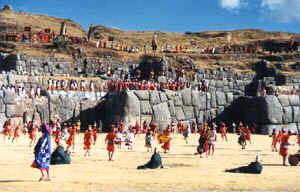 The ancient city of Cusco, Peru, was laid out in the shape of a stylized puma, and Sacsayhuaman is at its head. As a matter of fact, another name for Sacsayhuaman is Saca Huma, which means the head of a puma. Although it sounds like "sexy woman", Sacsayhuaman is Quechua for "satisfied falcon," a name that refers to the carrion-eating birds that feasted on the dead after a hideous battle was fought here in 1536, when Spanish invaders annihilated the defending Inca forces. Now, Sacsayhuaman is the site of Cusco's largest annual festival, Inti Raymi, (seen in photo at the left) held during the June 21st winter solstice. Three parallel walls, built in a zig-zag pattern, were part of the defensive fortress, and correspond to the teeth of the puma.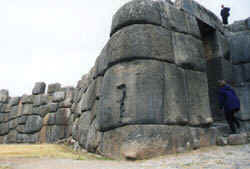 Sacsayhuaman is noted for its irregularly-shaped, gargantuan stone blocks, one of which weighs more than 300 tons. They are fitted together without mortar, and the ones now remaining have withstood not only attempts by the Spanish to knock them down, but also more than half a millennium of earthquakes and other natural forces. Pictured at the right is an entrance near which a serpent pattern is carved into the rock. Almost exactly the same size as the human brain and spinal column, this carving is believed to represent the seven chakras, and it is said that the seven gouged-out areas were once filled with gold, crystals and gemstones. Mark Amaru Pinkham, author of the book The Return of the Serpents of Wisdom
, regularly leads groups to sacred sites in Peru, through Soluna Tours. Mark says that another name for Sacsayhuaman is the Serpent-Lightning Temple, because it is believed that in ancient times the Incas performed rituals here to awaken the inner serpent, or kundalini energy, located at the base of the human spine.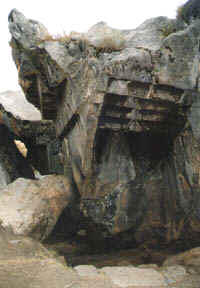 Another area of Sacsayhuaman was probably a mystery school, used for teaching secrets of the universe and initiating new students into the priesthood. In this area are many mysterious stone carvings, including the one pictured at the left, where it seems like the underside of a stairway has been carved into the solid rock. Could this represent steps leading into another dimension?
Sacsayhuaman is located only 2 kilometers from Cusco, and the distance can be walked in about 45-minutes, although the climb is steep, and at an altitude of 3500 meters (more than 10,000 feet above sea level), it can be strenuous, so you're best to go by taxi or tourist bus. There is an admission charge, and if you are not traveling as part of an organized group, you should remember to get a Cusco Tourist Ticket first at the Galeria Turistica office in Cusco. This ticket costs about $10, and is good for admission to the Korikancha, Cusco Cathedral, Quenko, Tambo Machay, Pisac, Ollantaytambo and several other attractions besides Sacsayhuaman.