New Age Travel is part of the family of websites that also includes New Age Journal.
We are edited, published and hosted by Cedar Cottage Media, located near Vancouver, BC, Canada.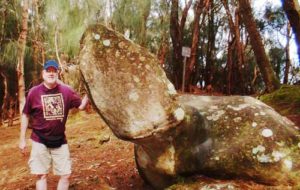 Our webmaster and editor is Robert Scheer, a travel journalist and marketing consultant who formerly edited and published Power Trips, the travel magazine devoted to Mother Earth's sacred places. A former president of both the British Columbia Association of Travel Writers and the B.C. chapter of the Travel Media Association of Canada, his articles have appeared in numerous newspapers and magazines across the USA and Canada.
New Age Travel was created in 1996 by Jack Schafer, as part of his Mystical Journeys travel company. In October, 1999, Jack and Robert re-formatted New Age Travel into the premiere information and reference network for sacred sites, pilgrimage destinations and places of power. Mr. Schafer is no longer affiliated with New Age Travel nor New Age Journal.
New Age Travel is a participant in the Amazon Services LLC Associates Program, an affiliate advertising program designed to provide a means for us to earn fees by linking to Amazon.com and affiliated sites.
We also have an affiliate relationship with some of the companies to which we link. This means that, at no extra cost to you, we may earn a commission or credit if you take certain actions, such as purchasing products or services. This is one of the ways we are able to maintain our website.
If you have any questions, comments or suggestions, we welcome your feedback. Please use our Contact Form to send us your message.