There is perhaps only one place on the earth that truly believes in making impossible dreams into a reality. Dubai is an abode of some of the most unbelievable man made sights and attractions in the world. Its journey from a simple desert village to one of the most extraordinary global city is proof of human's unwavering perseverance and outstanding quality of creativity and innovation. Dubai has presently become one of the best destinations for all genres of travelers and offers endless choices of amazing attractions for its visitors to enjoy. With every progressing year, Dubai modifies itself with a new addition to its record-breaking list of attractions or comes up with a brand new recreational avenue to maintain the enthusiasm appeal of its tourists. A downside of Dubai's rave for mind-blowing tourist attractions is that there is so much to see and do that it becomes difficult to decide where to go in Dubai during a vacation. Here are our top seven tourist attractions that you ought to visit on a Dubai trip in 2019.
Burj Khalifa and Dubai Fountains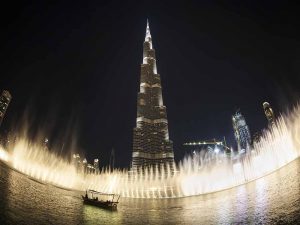 Quite obvious that nobody would want to miss visiting Dubai's iconic landmark which is also the tallest building in the world. Burj Khalifa instantly snatched Burj Al Arab's limelight and became the brand new icon of Dubai. The grandeur of Burj Khalifa needs to be experienced by every Dubai visitor. Towering over the city, this attraction offers unparalleled panoramas of Dubai city and beyond from the world's highest observatory deck. Right adjacent to this magnificent structure is the Dubai Fountains which holds the record of being the biggest dancing fountains in the world. An evening spent on top of Burj Khalifa viewing the illuminated Dubai city and the spectacular fusion of music, lights, and water at the Dubai Fountain is a sight that will leave its mark in your memory as one of the best travel experiences of your life.
Dubai Parks and Resorts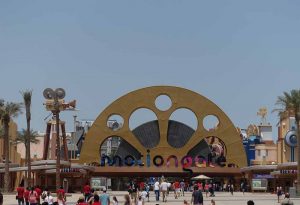 A brand new feather added to Dubai's impressive list of feats, Dubai Park and Resorts opened in 2016 to welcome Dubai family holidaymakers to more thrill and excitement. With over 100 rides and attractions spread through four parks, Dubai Parks and Resort offers an incredible mish-mash of high-speed rides, splashy water rides, live entertainment, and outdoor recreational areas. Dubai Parks and Resorts is also home to the first ever Legoland theme park and waterpark in UAE. The other theme parks are Motiongate and Bollywood Park which are inspired by Hollywood and Indian cinema. Riverland Boulevard is a section which is solely dedicated to shopping, dining and leisure experiences. Guests can even stay at the Lapita hotel located within the Dubai Parks and Resort if they wish to spend more than a day exploring the park. This mega theme park paves way for Dubai to become the ultimate destination for real entertainment for holidaymakers.
Dubai Miracle Gardens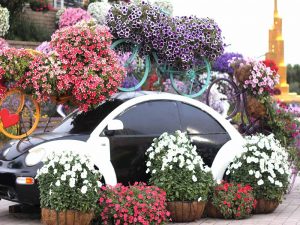 If not in Dubai; where else would you find millions of flowers blooming amid a desert landscape? Dubai conjured up a magical oasis filled with colourful flowers and shrubberies and surpassed even the most challenging vision it had wished for. Step into a realm of vivid hues and aromas and you would seriously ask yourself if all this is indeed in a desert emirate. Located in Dubailand, this one of a kind tourist attraction in Dubai welcomes visitors from November till March and lets them have a mesmerizing time amid 50 million blooms. The Dubai Miracle Garden is also the world's largest natural flower garden and is home to the largest flower installation in the world – a life-size replica of the Emirates Airbus A380.
Dubai Frame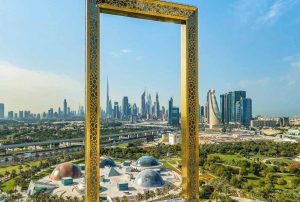 Brand new addition to Dubai's iconic landmarks – The Dubai Frame was unveiled on the 1st day of 2018 and had been described as the 'largest picture frame on the planet'. Standing tall at 150 meters, this stunning attraction towers over the city and acts as a viewpoint to witness both perspectives of Dubai – The old world charm of Old Dubai on one side and the modern-day Dubai on the other. This new architectural marvel brilliantly fuses with Dubai's impressive skyline and has swiftly become a must-visit attraction for Dubai visitors.
Dubai Marina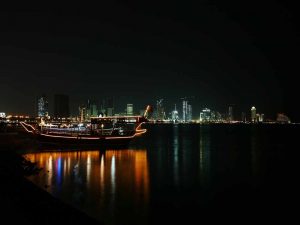 Latest hangout spot for locals and visitors alike in Dubai is the Dubai Marina – a lavish city built on an artificial canal. This elegant precinct offers an assortment of shopping, dining, and entertainment for its visitors. You can live in leisure and luxury here and get larger than life experience here. Start your day with an English breakfast at Dubai Marina Yacht Club, take a stroll at the beach JBR, shop and dine at your heart's content and finally unwind with a spectacular Dubai Marina Dhow cruise experience on the shimmering waters of Dubai Marina.
Dubai Souks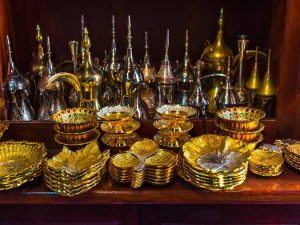 There are many places in Dubai which will make your jaws drop with extravagance and flamboyance, but certain spots in Dubai still exude the old traditions and cultural charisma of the bygone era. You will find a lot of opulent shopping malls for an amazing retail therapy, but the real way to enjoy a day of shopping is at the antique souks of Dubai. Discover the labyrinth of twisting alleys lined with hoards of vendors selling everything from gold, gems and handcrafted carpets to perfumes and spices. The bustling ambiance of local bazaars along with the sights of colourful, genuine merchandises fused along with the aromas of spices and perfumes makes this an experience enriched with cultural immersion. You get an extensive variety of Middle Eastern goods to buy and with a few bargaining skills, you can get a really good deal on authentic products.
Dubai Deserts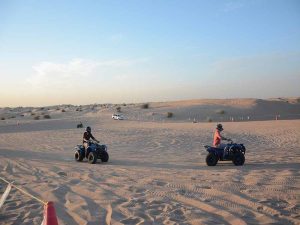 The desert experience in Dubai will be one of your most cherished moments in Dubai. Before the glittering man made jungle made its presence felt to the world, Dubai was a humble desert habitat of tiny village settlements. Today, the desert edges the outskirts of the city and offers visitors a rendezvous with the realness of Dubai. If you feel you are getting overwhelmed by all the awe-inspiring modern innovations, take an excursion beyond the city and witness the vastness of the Arabian Desert. A trip to the Dubai desert is a tranquil escape from the urbanism of the emirate. Here you are surrounded by golden sand dunes as far as the eye can see. You can add a bit of adventure on your trip with an early morning hot air balloon ride or a full-fledged desert safari adventure. Enjoy sand bashing, quad biking, buggy, and camel rides and later enjoy a serene sunset on the desert horizon and an authentic Arabian BBQ dinner with good music, good company and good vibes.
Dubai is indeed a city that needs to be seen to believe its splendours. Dubai isn't just a gleaming city of high rise skyscrapers and jaw-dropping architectural structure; it has a multitude of moods which comprises modernity, cultural immersion, serene natural vistas, and Arabian charisma. Apart from these top selected attractions, Dubai offers many more experiences that can only be witnessed in this emirate. For instance, ever imagined snow skiing in Dubai, or how about staying a night in the world's only seven-star hotel built on a man-made island? There are many such incredible ways to enjoy Dubai's extraordinary experiences. So make sure you have Dubai on your travel list for 2019 and get a 30-day Dubai visa to visit these astonishing attractions of Dubai that would make you fall in love with this city.
About the author:
Priya is an avid travel writer who specializes in adventurous travel writing. Her blogs and articles give deep insight about various tourist places and act as a perfect travel guide for someone who is traveling to a place for the first time. Priya has exemplary research, writing, and editing skills which make her easily match the reader's intellect and interest. She has blogged extensively about her travel experience while traveling to several places like Malaysia, Thailand, Singapore, Europe, Dubai, USA, Canada, etc.