By Chris Millikan
My hubby and I leave our plush traditional-style bure at Jean-Michel Cousteau resort in Savu Savu on Vanua Levu, travel over its luxuriant mountain and within two scenic hours arrive in Labasa [Lam-basa], Fiji's third largest city. Our quest lies east of this bustling town.
Breezing smoothly into pastoral countryside past prosperous-looking villages with guide Cio, the pavement ends abruptly; our driver Ari quips, "Now it'll be rough…hey, no charge for back and butt massages!"
Rattling and bumping over ruts and potholes we concentrate on feathery blossoming sugarcane stretching to the base of lush coastal mountains; tethered goats, cattle and bullocks grazing along the roadside; farmers harvesting rice for domestic use; thriving dark-green cassava patches and scattered trees flaunting showy red and yellow blooms.
Eventually stopping for directions, a farmer points out rutted dirt tracks cutting through his sugarcane fields, shouting, "Yer almost there!" Parked, we stumble through open pastureland choked with thick, tangled reeds. Cio notes, "…They're commonly used to weave mats."
Up to our ankles in foul black muck and swampy water…and unable to reach the small lake as hoped…we return to the cane farmer who now advises, "Gotta go to the village chief on the hill…hear about the Floating Island."
After miraculously maneuvering a narrow rocky road, we're there! Greeted by an excited mob of children, we follow them up a steep pathway feeling a bit like mountain goats. We finally sit cross-legged on the chief's porch. Before Cio translates the legend, he grins, "I didn't know a taxi could make it up this far!"
"In the old days, our forefathers rode all the way to the sea, fishing from three floating islands the size of large houses. Over two hundred years ago, tribes from across the mountains wanted two islands for themselves, but an agreement could not be struck. So…they blocked up the channel, leaving just one island in our lake. Now, when our priest chants, it'll move from place-to-place…eventually stopping along the shore…" After sharing coconut-cups of kava, we thank the chief and his family for their warm hospitality and return toward Labasa.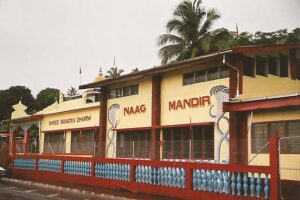 About fifteen kilometers from town we enter Naag Mandir, respectfully removing our sandals. An elderly man slowly sweeps dust from gleaming blue-tiled floors where several hundred Hindu devotees worship daily.
The red, blue and yellow Snake Temple soars almost three stories. Inside, lavish flower and tinsel garlands drape a black basalt stone resembling a cobra poised to strike; citrus fruits surround its base. We meet two sisters, praying as they minister to the altar.
Slowly circling the famed cobra-rock three times, Ranu lights sweet-smelling incense sticks, drizzles coconut milk and sprinkles golden turmeric powder, gifts to the snake god.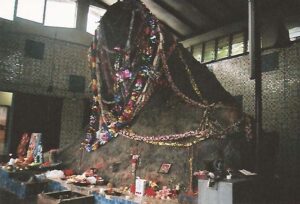 During this ritual, Rada, eldest of the sisters, whispers, "When my Grandmother was young, this rock was just two feet high. When I was an adult, it had grown as tall as me. Now, look! It's gigantic," she beams. Growing to almost 15 feet over the years, the roof has been raised twice; devotees believe the rock still grows…
Through a narrow door, a stairway ascends gradually skyward to Shivalay or Shiva. Radu had told us that believers murmur the god's 108 names as they tread these low-rise steps;we climb to the prayer-gazebo to see Shiva's likeness sitting next to his godly mate.
At day's end, we return to town past the frenetic Saturday market and stay at the historic Great Eastern Hotel along the Labasa River. There, over luscious seafood suppers we savor these two magical phenomena… marveling at remarkable wonders often found off the beaten track.
About the author:
A much-traveled freelance writer/photographer living near Vancouver, BC, Chris Millikan is a former teacher and elementary school administrator now presenting the joys of travel as an inviting 'curriculum.' Her travel articles appear in the Vancouver Sun, Province, in-flight magazines and many community newspapers. As Vice President of the BC Association of Travel Writers, she supports her colleagues' aspirations. Traveling off the beaten track with writer/photographer partner and hubby Rick, their accounts in Senior Living Magazine and Open Road Magazine reflect zany, cultural and historic adventures. The 2009 Kalama Award acknowledges this team's array of stories reflecting the rich culture of Maui, Molokai and Lanai. Contact her at millikan@ axion.net