by Robert Scheer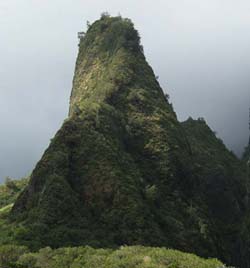 A visit to the Iao Valley on the Hawaiian island of Maui led me to an important discovery. I learned that you don't always know where Spirit is leading you until you get there.
The day before, I had met Mikala, a naturalist, who had told me all about ti leaves. Not to be confused with tea leaves, the leaves of the ti plant are traditionally used in Hawaii for spiritual protection. They are planted at the four corners of houses. You will often see braided ti leaves wrapped around license plates of cars. "Grass" skirts are made from ti leaves. But most importantly, Mikala told me, offerings left at sacred places are wrapped in them.
I didn't spend my entire time on Maui looking for sacred places. The next morning I went diving, but as the charter boat was returning to harbor, I happened to mention to the diving instructor that I was going to be spending that afternoon in the Iao Valley, looking for power places and sacred sites. She told me that I would see a posted sign in the Iao Valley State Park that says not to go off the path, and that this was where — if I went off the path — I would find a network of trails that lead to some of the most interesting places in the park. And that's exactly what happened.
Iao Valley State Park is about four miles west of Wailuku, at the end of Highway 320. There is a paved path from the parking lot to viewpoints where you can see the 2,250-foot-high Iao Needle. One of the most sacred places on Maui, the Iao Needle, was traditionally honored as the phallic stone of Kanaloa, god of the ocean.
A river was splashing down the valley, and the path led to a bridge that crossed above the water. As I stood on the bridge, looking up at the Iao Needle, I began to feel a powerful rush of energy, similar to what I had experienced at one of the vortexes in Sedona, AZ. It seemed that energy was pouring down from both the needle and the river, and focusing at the base of the needle.
I took some pictures of the needle, and then I crossed over the river and walked farther on down the path. Soon I came to the "don't go off the path" sign Jennifer had told me about. Sure enough, right alongside the sign-post was a fairly well-worn trail. After looking around to make sure nobody was watching, I stepped off the paving and into an adventure.
The trail led into a jungle of ferns, coconut palms and lots of other lush foliage that I couldn't identify, including a patch of grass with a lovely aroma that reminded me of curry. After several minutes of winding up and down and around the jungle, I noticed that there was a family on the trail moving toward me. I stopped in a clearing to let them pass.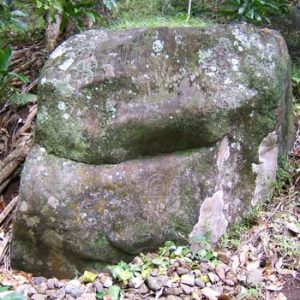 Suddenly I realized I was standing in front of a very special rock. The large boulder had a petroglyph — a human figure — scratched deeply into it. In front of the stone was a pile of offerings wrapped in ti leaves.
As I was doing additional research for this article, I learned that the figure is Rainbow Man, one of the best-known Hawaiian petroglyphs. The arc above the man's head and resting on his shoulders shows that he radiates wisdom or power and "shoulders" responsibility. He is the keeper of the land and its people. Some people interpret the symbol as representing each person's responsibility of protecting Mother Earth.
Magically, my journey of learning did not end with my lesson about how you need to get off the asphalt and onto the soil. Nor did it end with my realization that, if I hadn't met and spoken with Mikala and Jennifer when I did, I probably would never have found the rock with the petroglyph on it. No, my adventure did not even end when I "happened" to buy a refrigerator magnet with a Rainbow Man petroglyph replica on it from a woman under the big Banyan tree in Lahaina.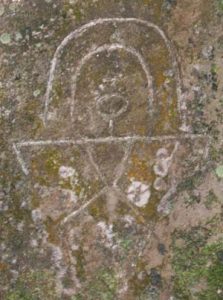 It was not until a few moments ago, as I was writing this article, that I finally connected the last dot. For more than ten years I have had a framed poster on a wall in my apartment that echoes the identical message as the Hawaiian petroglyph. The poster reads: "According to a Native American legend, when the Earth's creatures have been hunted almost to extinction, a rainbow warrior will descend from the sky to protect them. The Rainbow Warrior – A Tribute To The Efforts of Greenpeace."
The Hawaiian Rainbow Man is another incarnation of the legendary Rainbow Warrior, a powerful image that Greenpeace and several other organizations have used to symbolize the struggle to protect our precious planet from those who would destroy it for profit.
It's utterly amazing how Spirit works. When I started writing this story, and I said: "you don't always know where Spirit is leading you until you get there" I thought I knew where this article was going to end. Little did I realize how truly prophetic my words would turn out to be. For Spirit was actually leading me somewhere else, but I never realized it until I suddenly arrived there.