Text and photos by Robert Scheer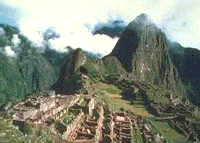 South America's most famous sacred site, Machu Picchu, is a mountain-top citadel about 100 km northwest of Cusco. Unlike major tourist spots Machu Picchu isn't very accessible. As there is no road access, you can only get to Machu Picchu by train or helicopter. Most visitors take the 3-hour train ride from Cusco, through the Urubamba river valley. In a jungle setting, the altitude is 2500 meters, about 1000 meters lower than Cusco, but still high enough so that climbing is more of a strain than at sea level.
Machu Picchu is actually the name of one of the four mountains that surround the plateau on which an ancient city now stands in ruins. The American explorer Hiram Bingham is widely credited with discovering Peru's "Lost City of the Incas," Machu Picchu, in 1911. Bingham actually was searching for the legendary city of Vilcabamba when the rector of the University of Cusco told him he had heard of a ruined city on a mountain above the Urubamba River, in an area that was being farmed by the Lizárraga family. Bingham paid one sol (50 cents) to a Quechua man, Melchor Arteaga, to lead him to the site. The full story of who really re-discovered Machu Picchu can be read in Journey to Machu Picchu: Spiritual Wisdom from the Andes
, by Carol Cumes and Rómulo Lizárraga Valencia, published by Llewellyn in 1998.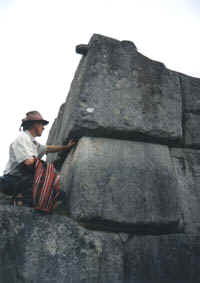 There are several hundred stone buildings, built on terraces and connected by a maze of stone steps and pathways. Thatched roofs have been rebuilt onto only a few of the buildings. Most are open to the sky. Anton Ponce de Leon Paiva told me that it is more appropriate to call Machu Picchu a "sanctuary" than a "ruin." The atmosphere of the place is truly as holy and inspirational as any cathedral. Some of the buildings, such as the Temple of Three Windows, (left) are made from enormous blocks of stone, weighing up to thirty tons, and fitted together without mortar.
It is utterly mind-boggling to consider how such construction could have been accomplished by a supposedly "primitive" culture. The Inka era dates from the 12th century, and historians say most Inka architecture dates from no earlier than the 1400s, but it has been suggested that the cyclopean buildings at Machu Picchu and Sacsayhuaman pre-date the Inkas by thousands of years and were accomplished by a civilization whose advanced technologies have now been lost.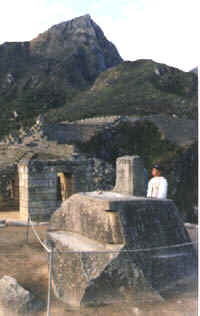 At the most powerful places on Machu Picchu, outcroppings of bedrock have been sculpted into steps, altars and other shapes, whose meanings we can only speculate about. The most important of these is the Intihuatana, or Hitching Post of the Sun (right.) It stands at the highest point on the plateau and seems to be the focal point of energy beamed down from the surrounding mountains. Apu is the Inka word for the energy or spirit of a mountain, and — when you stand at the Intihuatana and gaze up at the apus that surround it — you begin to understand why this place is so very powerful. Even if there were no man-made buildings, Machu Picchu would still be a sacred site.
Not far from the Intihuatana is the Sacred Plaza, on which stands the Temple of Three windows. Nearby is the Southern Cross stone, an outcropping of rock carved into the trapezoidal shape of the Southern Cross star constellation. I had the rare opportunity of being on the plaza on a clear, cold night, when I could see that the the stone does indeed point up toward the constellation. I was part of a group participating in a sacred ritual led by an Andean shaman. By the light of a ceremonial fire, he gave us a drink made from the San Pedro cactus, which his ancestors have been using for hundreds of years to make contact with spirits from other dimensions! Everyone in our group agreed that this special event was the highlight of our pilgrimage to the sacred mysteries of Peru.
Many visitors to Machu Picchu have powerful visions, but likely none was ever more extraordinary than that of a woman from Washington state who had an encounter with beings from another dimension. She told me that she was walking across the flat, grassy main plaza when suddenly a huge, shining spacecraft materialized in front of her. A being came from inside the ship and focused on her, making gestures which caused waves of joy and unconditional love to radiate into her heart. Just as suddenly, the craft and the glowing being from it both vanished. Although nobody else around her saw them, she knows in her heart these visions were real.
There are seven energy vortexes at Machu Picchu, so sensitive visitors will feel different reactions at different parts of the complex, but even if you don't see ETs or elemental beings, you're certain to be amazed by what you do see here.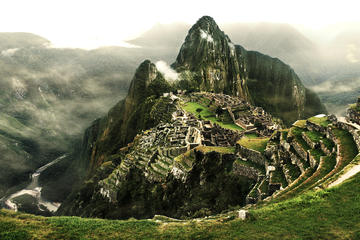 Machu Picchu in One Day by Inca Rail Train from Cusco
Robert Scheer is a travel writer and the editor of NewAgeTravel.com.