An index of stone circles, holy wells, sacred groves, temples, mountain tops, pyramids, caves, shrines, megaliths, ancient pilgrimage and vision quest sites, organized by region…
North America
The native people of North America knew about the powers of sacred places long before the continent was invaded by Europeans. Some of the sacred sites of the continent's First Nations are identifiable by great mounds, cliff dwellings and rock art. Other undeveloped sites, such as special mountains and forests, are known to be sacred through traditions passed down for many generations.
The largest pyramid mound in the USA, the Cahokia Mound can be found about twelve miles from Saint Louis, near the Mississippi river. Covering sixteen acres, the sacred mound was originally over 35 feet high and more than four city blocks long. At the top, a priest lived in a wooden shrine, dedicated to the sun god. The Great Serpent Mound, in Adams County Ohio, is one of many sacred places associated with ancient wisdom identified by the serpent symbol. Snakes and dragons are said to have originated on now-lost continents in the Atlantic and Pacific and spread all across the Earth. In North Salem New Hampshire is America's Stonehenge, a site where 40-60 ton megaliths are aligned to solstices and equinoxes. Aztalan Wisconsin is believed to the site of an ancient city where citizens from Atlantis mined copper and shipped it to Europe. An ancient pyramid may lie submerged nearby in Rock Lake.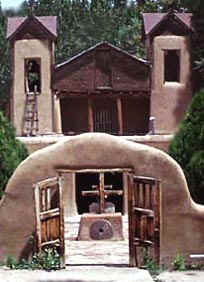 The Four Corners area of southwestern USA, the meeting point of Utah, Colorado, New Mexico and Arizona, is rich with sacred sites. According to Hopi traditions, Sunset Crater in northern Arizona is a sacred mountain where angry gods once threatened to destroy evil people with its volcanic fire. Legend tells that mysterious "roads" near Chaco Canyon in New Mexico are tunnels used by "Ancient Ones" long ago. A small adobe chapel in Chimayó, NM is known as the "Lourdes of America" because of the countless miraculous healings attributed to its power. The area near Utah's Canyonlands National Park is renowned for its petroglyphs (rock carvings) as well as ancient pueblos and arch-shaped rock formations. Mesa Verde Colorado is a World Heritage Site where visitors can learn how the society and religion of ancient cliff-dwellers developed into ways still followed by contemporary native people in the area.  Sedona, Arizona, called the New Age capital of the USA, is where at least four major energy vortexes have been identified.
The energy of Mount Shasta, in northern California is so powerful that it has been called the "Epcot Center" of sacred sites. Purification rituals and sweat lodge ceremonies are still held at Panther Meadows on the mountain. A variety of sacred sites can be found in nearby caves, springs and dormant volcanoes. Mt. Tamalpias, north of San Francisco, and Big Sur on the Monterey Peninsula are also noted for their powers to heal, purify and inspire the imagination.
Some other acknowledged sacred sites in the western USA include Zion National Park and Indian Creek Canyon, Utah; Canyon de Chelly, Wupatki Ruins and the San Francisco Mountains in Arizona; Indian Hot Springs, Texas; Pyramid Lake, Nevada; Mt. Hood and Crater Lake, Oregon; Mt. Rainier and Mt. Baker, Washington; and Mt. Baldy and Joshua Tree in southern California.
Hawaiian sacred places include Haleakala and the Iao Valley on Maui, and on the "big island" of Hawaii you can find the Hill of the Whale, City of Refuge and Kilauea, the home of the fire goddess, Pele. In Alaska the Tena people considered Denali (Mt. McKinley) to be sacred.
On the west coast of Canada, not far from Alaska, is Haida Gwaii (formerly known as the Queen Charlotte Islands), where Ninstints, on Anthony Island, is a designated World Heritage Site containing the largest remaining grouping of "totem poles." Also in British Columbia, the Stein Valley is a traditional vision quest site, where hikers can still see faded rock paintings from spirit visions of First Nations youth. One of North America's largest medicine wheels is in Majorville, Alberta, near Calgary. Dreamer's Rock, on the shore of Lake Ontario, is sacred to the Ojibway nation, and in Peterborough, Ontario is a marble slab with over 900 Algonkian petroglyphs, some of which are remarkably similar to ancient native art found in Scandinavia.

There are few sacred sites in Mexico north of Mexico City, and the greatest concentration is in the Yucatan peninsula, which is technically part of North America but is listed on these pages with Central America. On the outskirts of Mexico City is the ancient Aztec pilgrimage site of Teotihuacan, where a vast complex of pyramids was built. The largest, the Pyramid of the Sun, was built over a holy cave. Nearby is the Pyramid of the Moon, and the plaza they dominate is called the Avenue of the Dead.
Central America
One of the smallest areas in size, Central America is surprisingly rich in ancient sacred places and power sites. Technically, Yucatan is in North America, as it is part of Mexico, but since it is so close to Central America, we have included the southern tip of Mexico in this part of the directory.

Chichen Itza is one of the greatest tourist attractions in Mexico. Located in the Yucatan peninsula, this mysterious ceremonial center includes the Temple of Kukulcan, also known as the Temple of Quetzalcoatl (seen at left) as well as the Cenote Sagrado, or Sacred Well, used for human sacrifices. Inside one pyramid is a jaguar statue with green eyes of jade that could only have come from China. Also in Yucatan is Uxmal, the Mayan center containing the legendary Pyramid of the Magician, said to have been built in one night by an enchanted dwarf. Palenque, in Mexico's state of Chiapas, is a magical site in the jungle. One of the most beautiful archaeological sites in the world, Palenque's most famous pyramid is the Temple of Inscriptions, with the Royal Tomb of Pacal, a Mayan priest/king said to have known the secret of space travel. Another site not to be missed is the elaborate complex of temples at Tulum, with dramatic views above the Caribbean Sea, in Quintana Roo.
There are so many ancient Mayan ruins in Belize (formerly British Honduras) that even archaeologists and government officials don't know for sure how many there are. It is estimated that one million people worked for one thousand years to build the remarkable city of Tikal, where at least 3,000 palaces dating back 6,000 years have been found. At Altun Ha are five major temples, honoring the sun, rain, wind, the moon, and the Green Tomb burial site, rich in carved jade. Ix Chel was the home of Mayan healer Don Eligio Panti, and many traditional medicinal plants and herbs are found here. Lubantuum is the site of the archaeological dig where a life-size quartz crystal skull was found in 1924. Neither scientists nor museum experts could determine how, where or why this mysterious artifact was made, but native legends say that it was not made on Earth.
Guatemala's impressive Mayan city of Tikal was at least 2,000 years old when it was mysteriously abandoned about 1,200 years ago. Today's visitors marvel at the Temple of the Jaguar and four other large temple/pyramids among a vast complex of altars, stone stelae (carved upright posts), and many yet-unexcavated mounds. The Mayans understood the orbit of Venus, invented the zero, and created one of the most refined cultures on Earth. Remains of their magnificent cities, temples and sculpture abound in Guatemala, at sites such as Ceibal, Yaxha, Nakum, Uaxactun, Ixlu, Quirigua, Zaculeu, Iximche, El Baul and Abaj Takalik. 
Major Mayan complexes in Honduras can be found at Copan and La Colorada. El Salvador is noted for its pyramids at Tazumal and San Andres.  The volcano Volcan Masaya in Nicaragua was the site of human sacrifices to the god of fire, while ancient statues and petroglyphs have been found on the Isla de Omotepe in Lake Nicaragua. Miraculous healings have been attributed to the Catholic pilgrimage site, la Basilica de Nuestra Senora de Los Angeles in Costa Rica.
– The Mexico Ministry of Tourism Offers These Tips –
Wear shoes that will give you good traction and support while climbing on rocky terrain.
Take insect repellant for jungle areas.
Tripod and flash photography are not allowed in many historic and archaeological sites.
It is a serious criminal offense to remove artifacts from sites or take them out of the country.
South America
The borders of Peru and Bolivia meet at Lake Titicaca, and ancient legends say that life on earth began here, on the waters of what is now the highest navigable lake in the world. In the beginning, before Inca times, Wiraccocha created the heavens and the earth. He first created a race of giants, who did not obey his order to live in peace, so he destroyed them and a great flood covered the land. When Earth was dry, Wiraccocha went to Lake Titicaca and created Inti, the Sun and Killa the Moon, as well as the stars, all of which rose from the lake into the heavens. Inti and Killa had two children, Manko Kapak and Mama Okllo, who were born in the foam of Lake Titicaca and went out to civilize the earth. With them they took a golden rod, and then they arrived at Cusco, the rod sank into the ground, so in Cusco they founded the city which became the center of the Inca empire.
A fascinating variation of the Inca creation myth tells that Manko Kapak and Mama Okllo were really Aramu Muru and Arama Mara, two masters who came from the Pacific continent of Mu, bringing an amazing golden sun disk. Near Lake Titicaca, Aramu Muru founded the underground Monastery of the Seven Rays, where the sun disk was kept.
The Coricancha, or Temple of the Sun (above left), is the primary Inca temple in the heart of Cusco, and the Sun Disk of Mu was said to have been taken here until the time of the Spanish invasion, when it was returned to Lake Titicaca. Old Cusco was built in the shape of a puma, and at its head is the fortress of Sacsayhuaman. Other important sacred places near Cusco are the fountains of Tambo Machay and the ritual site of Qenko.  Winding northwest from Cusco toward Machu Picchu is the Sacred Valley of the Urubamba river. Two breathtaking sites in the valley are Pisac, which is like a miniature Machu Picchu, and Ollyantaytambo (right), a terraced complex topped with an amazing set of huge carved stone panels. At the northwestern end of the valley, accessible only by rail or helicopter, is Machu Picchu. A day-long trip south from Cusco to Puno brings you to Lake Titicaca, near which is the recently-discovered Aramu Muru's Portal, said to be a doorway into other dimensions. In the mountains northeast of Lima is Marca Huasi, a mysterious site believe to have been an ancient mystery school more than ten thousand years ago. Giant rock carvings resemble humans of all different races and animals not native to South America, including a Stegosaurus dinosaur. UFOs are often sighted in the area. Enigmatic Nazca Lines in the desert south of Lima are stylized animal shapes that can only be identified from the air, although they were created at least1650 years ago. Peru's Amazon rainforest is home to many native shaman, some of whom are now sharing their ancient traditions with non-native visitors, including ayahuasca ceremonies.

Tiahuanaco, on the southern shore of Lake Titicaca in the Andes of Bolivia, may be the oldest city in South America. Although its altitude is now higher than 12,000 feet, evidence shows that Tiahuanaco was once at sea level, and there is speculation that its ruins are 17,000 years old, pre-dating the great flood. Construction used enormous basalt stones that were quarried at least 40 km away, on the other side of the Lake. Ingapirca is the only Inca city in Eduador that wasn't demolished by Spanish invaders. At a sacred cave at Lake Guatavita near Bogata Colombia, ancient rulers would drop offerings of gold and emeralds into the water. At Sao Tome das Letras near Minas, Brazil are caves associated with many mysterious legends, including stories of extraterrestrials and a tunnel system that connects with Machu Picchu. In the Atacama desert of Chile are hundreds of prehistoric carvings, similar to the Nazca lines. 
Travel Tips for the Andes
Don't plan any activities for your first day. Rest and get adjusted to the high altitude.
Drink coca tea (it's not a narcotic) and plenty of (bottled) water. Avoid alcohol.
Protect yourself from the strong sun with sunscreen, lip balm, a hat, and long sleeved clothing.
The more Spanish (and Quechuan) words you can speak, the better.
Bring toilet paper with you, as many baños are primitive.
Most Inca sites are very hilly. Wear shoes appropriate for steep, rocky walking or mild hiking.
British Isles
Nowhere on Earth are there more ancient sacred megaliths, henges, barrows, stone circles, mounds, holy wells, dolmens, chalk figures and fogous concentrated in such a small area as in the southwest of England. Although Stonehenge is the most famous sacred site in the English-speaking world, the larger complex at Avebury has been compared to Stonehenge as one would compare a cathedral to a country church. Unfortunately, many stones at Avebury (and many other ancient sacred sites) were destroyed by Christian fundamentalists who confused the old, pre-Christian religion with devil worship. 
Glastonbury is associated with Jesus, King Arthur and UFOs. Recent discoveries at West Kennet Long Barrow relate it and nearby sites (including Stonehenge) to worship of the Great Goddess. Although the area boasts hundreds of sacred places, some of the best known and most accessible are the Boscawen-un,Rollright Stones, Hurlers, Cheesewring and Duloe stone circles, Lanyon Quoit and Trethevy Quoit dolmens, and the holy well, Madron Well. 
Pembrokeshire, Wales, is where the Stonehenge bluestones are believed to have been quarried.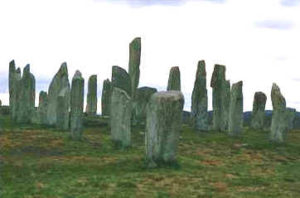 In the north of England, notable sites include Long Meg and Her Daughters and Castlerigg Circle in Cumbria. Many pilgrims make Clava Cairns a must-see stop on the Scottish mainland, while the islands of Scotland are even richer in sacred places, including: the Stones of Stenness, Maes Howe and the Ring of Brodgar in the far Orkneys, Callanish on the isle of Lewis (left) , and the holy island of Iona.  Near Edinburgh, Scotland is Rosslyn Chapel, linked to the DaVinci Code, the Knights Templar and the Holy Grail.
Newgrange and nearby Knowth, Tara and Loughcrew in County Meath, Ireland, may be the greatest concentration of megalithic art in Europe. Newgrange is aligned to the Winter Solstice sunrise, when sunlight dramatically illuminates ornate Goddess spirals and lozenges carved inside this ancient sanctuary. Other notable ancient Irish sites are at Lough Gur, county Limerick, Dun Aengus, county Galway, and Carrowmore and Carrowkeel in County Sligo. Remarkable early Christian sacred places are Skellig Michael and the numerous beehive huts and Celtic crosses near Dingle, county Kerry.
Sacred Sites UK Tips
Don't simply barge into a site. You may want to "ask permission" first. Enter with love and humility.

Be open to the energies of a place, and try to "tune into" them, perhaps through meditation.

Leave no trace of your visit. It is inappropriate to leave any offerings, other than your loving thoughts.

Taking stones, soil or anything else away from sacred sites is forbidden and creates very bad karma.

Before you can see leprechauns, fairies and other elemental beings, you have to believe they are real.

The best months for weather in the British Isles are usually May and September, but rain is always a possibility. Why do you think Ireland is so green?

Remember that the United Kingdom of Great Britain and Northern Ireland includes the countries of England, Scotland and Wales, and that the Republic of Ireland is an independent nation.
Western Europe
In Brittany, near the coastal city of Carnac in the northwest of France are nearly 3,000 standing stones erected approximately 4,500 years ago. Like its namesake in Egypt, Carnac was once a major focal point for Celtic power and influence. Similar to Tara in Ireland, it was a spiritual center for religious observations, tribal gatherings and astronomical observations. Several ancient pagan stones in Brittany have had Christian crosses added to them. The cathedral at Chartres is rich with mysterious imagery and sacred geometry, said to be clues to the deepest secrets of the universe. A sacred forest once stood on the hilltop where the cathedral was built, and a well behind the cathedral is believed to have been used by ancient Druids.  Rennes-Le-Chateau, in Languedoc, France is the scene of many mysteries linked to the DaVinci Code, Mary Magdalene, the Holy Grail, the Knights Templar and the treasures of the Temple of Solomon.
In Assisi, Italy are several sites associated with the legendary Saint Francis.
Another place associated with Templar mysteries is the island of Malta in the Mediterranean. Here you will find Earth's oldest buildings made by humans. There are 23 temple complexes among dozens of archaeological sites on Malta and her sister island, Gozo. One of the best known is the Mnajdra [pronounced NIE-dra] complex, built in the shape of the Great Goddess. It pre-dates the the Great Pyramid by about 1,000 years.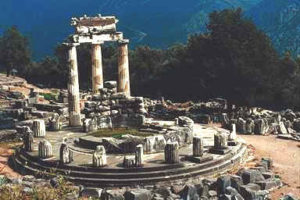 Delphi was the navel of the world to the ancient Greeks. A sanctuary of the Earth Goddess, Gaia, was later dedicated to Apollo. Here the Sacred Oracle, a priestess would, enter a trance and offer her advice. Near the Temple of Apollo (left) is the Castilian Spring, where pilgrims would cleanse themselves before consulting the Oracle.
On the southwest coast of the island of Cyprus is The Rock of Aphrodite, where the Greek goddess of love (based on an earlier Earth goddess) is said to have been born. On Crete is the Cave of Zeus on Mount Ida, which is believed to have been used to worship the Mother Goddess before its association with Zeus.
There is an impressive megalithic site in Portugal at Almendras, with 95 large stones arranged in a double oval.  In Montserrat, Spain, the Monastery of the Black Madonna was built on a pre-Christian sacred mountain. A major pilgrimage site since the Middle Ages, an estimated 60,000 pilgrims now visit the monastery each year.
Ephesus in Turkey is noted for its Temple of Artemis, the moon goddess, which as the greatest of the seven wonders of the ancient world.  Fragments of its ruins may still be seen. The legendary Amazons once lived on this site, according to legend. 
At first a place for Pagan worship, the Externesteine sacred rocks in Germany became a Christian pilgrimage site which gradually faded into obscurity until the 1920s, when they became linked with Teutonic myths that were later advanced by the Nazis.
Middle East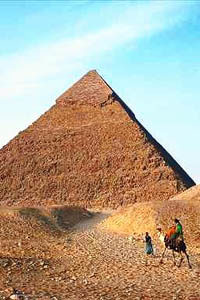 The largest single building ever created on earth is the Great Pyramid at Giza in Egypt. When Napoleon saw it in 1798, he calculated that the stones in the three Giza pyramids could be used to build a wall one foot wide and ten feet high around all of France. But why were they built? No bones nor funeral objects have been discovered in the Great Pyramid. There are, however, strange hollow "shafts" that seem to point to the stars. In the 1980s a group of Japanese engineers and other experts tried to build a duplicate of the Great Pyramid, and found it could not be done. It is speculated that the secret knowledge the ancient Egyptians used to accomplish their impossible tasks was given to them from Atlantis.
In the Holy Land, a visitor can walk in the footsteps of Moses, Jesus and the Prophet Muhammad. Israel is such a small country that in one day it is possible to visit the Mediterranean seacoast fortress where Crusaders, including Richard the Lionheart, first came ashore; drink water from the well in Nazareth where the Angel Gabriel met the Virgin Mary; sail on the Sea of Galilee where Jesus converted his first apostle; touch the sacred rock where the Ark of the Covenant once rested in Solomon's First Temple; and see the cave where the Dead Sea Scrolls were discovered. Even visitors who follow neither Christianity, Judaism nor Islam will feel moved by the powerful energies of this most ancient land.
All over the world, five times each day, Muslims pray facing the most holy place of Islam, Mecca. A small city in Saudi Arabia, Mecca is where the Prophet Muhammad was born. In the courtyard of the Great Mosque of Mecca is the Ka'aba, a cube-shaped shrine covered in black cloth embroidered in gold and silver.
In Palmyra, northern Syria, is the Temple of Bel or Baal, the well preserved ruins of a Roman temple associated with worship of the sun and moon gods. 
Atesyhkade near Yazd, Iran, is the site of an ancient fire temple that is a major Zoroastrian pilgrimage destination. It is believed that a ceremonial flame has burned here continuously for more than 1500 years.
There is a spectacular complex of sacred buildings at Petra, Jordan. The area has been inhabited for over 9,000 years and features temples and tombs carved out of solid rock.

Middle East Travel Tips
"Modest" clothing is necessary to enter many religious buildings. This means that shorts and short sleeved shirts may not be worn.
In mosques, shoes must be taken off before entering.
Silence is required in some churches, and flash photography may not be allowed.
In Israel, many facilities are closed on the Sabbath, which is observed from Friday evening through Saturday evening.
The most important word to know is "Salaam" in Arabic, and "Shalom" in Hebrew. They both mean the same thing… "hello", "goodbye" and "peace".
India-Tibet-Nepal
Is this the oldest inhabited area on Earth? Ancient manuscripts tell of the Ramayana race who came to India 30,000 to 70,000 years ago. There are rumors of cities destroyed by nuclear-like explosions before the great flood. In the Himalayas may be hidden monasteries resembling the fictional  "Shangri-la." In ashrams and temples live avatars and gurus to whom miraculous accomplishments are attributed, including raising the dead and materializing objects out of thin air! The naive Western observer sees an ironic juxtaposition of unimaginable poverty alongside profound wisdom. Tibet has been occupied by China since 1950. In 1959 thousands of Tibetans were killed and thousands more went into exile, including their spiritual leader, the Dalai Lama, who now lives in Dharamsala, in the foothills of the Indian Himalayas.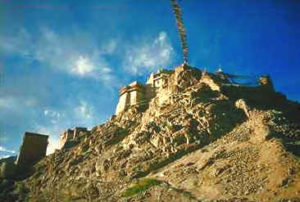 The North of India is famous for the national capital, Delhi, as well as the modern wonder of the world, the Taj Mahal in Agra. Also in this region is Varanasi, the oldest and most holy city in India, an important Hindu pilgrimage center, with access to the holy Ganges river. Ladakh, site of the Leh Palace (left) is the most northern province and the center of Tibetan Buddhism.
Khajuraho, in West India, is noted for ornately carved temples and erotic sculptures. Sanchi has numerous temples and monasteries with carvings depicting events in the life of the Buddha.
South India has the highest concentration of ancient Hindu temples and sacred sites in the country. Notable are the Meenakshi Temple in Madurai and the holy city of Tiruvannamalai with the ashram and tomb of Ramana Maharishi. India's most sacred mountain is Mount Arunachala, with caves used by Sri Ramana. Many visitors have had their lives transformed by visiting the ashrams of Sai  Baba, Mata Amritanandamayi, and Sri Aurobindo.
The Buddhist Trail, in East India, leads from Patna and includes Bodhgaya, the spot where Lord Buddha attained enlightenment. In Nalanda was a university where the Buddha himself once taught, said to have contained 9 million books. In Konark is a 13th century Sun Temple, one of very few in India.
To give or not to give?
Whether or not to give donations to street beggars is a question all visitors to third world countries must eventually make. If you are "rich" enough to travel there, you are very wealthy indeed! Some visitors budget a set amount of small change every day. Others say their gifts only encourage helplessness. If you don't ordinarily give handouts to street people at home, why should you feel different about beggars in another culture? It has been observed that tourists usually are more aware of beggars than the locals are. The Indian government tourism office discourages giving donations. In general, the more you learn ahead of time about a country you are going to be visiting, the less "culture shock:" you will experience when you get there.
Mount Kailash has been identified as one of the three most powerful sacred places on Earth. It is in western Tibet, and most visitors get there by flying to Lhasa from Chengdu or Kathmandu, and then making a long, slow drive by truck or 4×4 to Darchen, at the foot of the mountain. For 15,000 years, pilgrims have believed their karma will be greatly enhanced by walking, or crawling, the 52-kilometer circuit, called a kora, around this most holy mountain, where the altitude reaches as high as 5,600 meters (over 18,000 feet.) The best times to go are usually in June, July and September.
The Tibetan name for the highest mountain on Earth, Mount Everest is Qomolangma, which means "Mother Goddess of the World."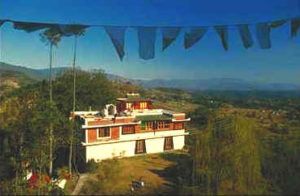 Kathmandu, in Nepal, is the gateway to the Himalayas and Mount Everest. Gautama Buddha was born in Southern Nepal about 560 bce, and as a young man he often visited the Kathmandu Valley, where there are now numerous Buddhist temples, shrines and other holy places, including Kumari Chowk, Sesh Narayan and the Jagannath Mandir. One hill, Swayambhu Stupa, is believed to be the most important power place in the valley. On its top is a golden cube and Buddhist statues representing the four elements, are at its base. The best time for a trip to Nepal is probably mid-September through November. Worst is the monsoon season, May through August.
Travel Health Tip
If you're traveling to India or Nepal, you should check with a travel physician at least two months before your departure date. Depending on where you will be going, it may be recommended that you be vaccinated for Japanese encephalitis, a process which takes 50-days. Malaria is another very dangerous problem in many parts of Asia. There is no vaccine, so carry anti-malaria tablets with you. Disease conditions in some areas change with time. If you haven't been to a foreign country recently, don't assume you know what the current conditions are. Consult with a physician who specializes in foreign travel, as general practitioners are not trained in this area of expertise. 
For more information, see the Travel Medicine & Vaccination Centre website.
Asia-Pacific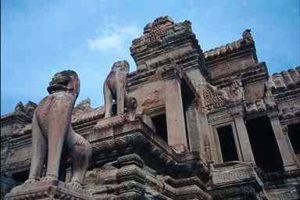 Angkor Wat was hidden in the jungles of Cambodia for centuries until its re-discovery in 1858 by a French naturalist. By the end of the 19th century, the great Khmer temple complex was nearly as famous a sacred place as the pyramids of Egypt. Angkor Wat, and nearby Angkor Thom are some of the most beautiful temples in the world.
The sacred mountain, Mt. Koya, is south of Osaka on Japan's island of Honshu. It was built 1,000 years ago on an energy vortex by a monk who is believed to be still alive and in deep meditation. An important pilgrimage is made in late autumn to Izumo Taisha, a great Shinto shrine inhabited by elemental beings, or nature spirits, known as Kami.
Wu Tai Shan is a sacred mountain in northern China with 20 beautiful temple complexes that have been revered by Taoists and Buddhists for thousands of years. Another important sacred place in China is the Kuan Yin temple at Putuo Shan, an island near Shanghai.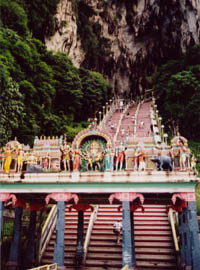 In Malaysia, the Batu Caves near Kuala Lumpur are the scene of an annual spectacular Thaipusam festival, when worshippers demonstrate their devotion by skewering their flesh with large metal spikes and hooks, yet feel no pain. Thaipusam celebrates the birthday of the youngest son of the god Shiva, Lord Subramaniam, also known as Lord Muruga. Hindus prepare for the festival by cleansing themselves spiritually. For one month they pray frequently, eat only one vegetarian meal per day and abstain from sex. During the festival, some devotees cover their bodies in mud from the nearby river and crawl up the 272 steps to the temple in the cave. Others, entranced, walk on knives or broken glass. It is believed that celebrating Thaipusam will cleanse participants of their sins and redeem misdeeds from the previous year. An estimated 800,000 people — from faithful followers to curiosity seekers — are expected to attend the next festival, January 25, 2005.
Fiji is better known as a destination for honeymooning, diving and boating than a pilgrimage site. Nevertheless, there are several interesting monoliths, sacred places and spiritual legends to reward travelers willing to explore off the beaten paths.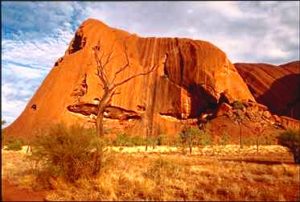 Uluru, according to Australian aboriginal tradition, was created during Dreamtime by two boys who were playing in the mud. The giant sandstone monolith, formerly known as Ayers Rock, is more than one mile wide, two miles long and 1,115 feet high. There are superb rock paintings in caves near the base of the rock. 30 miles away is Uluru-Kata Tjuta, a female sacred site where fertility ceremonies were held. The best way to understand the spirit of the land in Australia is to spend some time in the outback with an aboriginal guide.
Some of the oldest rock paintings on earth are creations of the Ang-Gnarra people near Laura in the Cape York Peninsula of Queensland.
At least one visitor who made the long journey to meditate among the 600 mysterious Moai stone statues on Easter Island was rewarded with inspirational visions about the direction his life should take.
On the South Pacific island of Tonga is a huge arch made from coral that bears a striking resemblance to a pre-Inca arch discovered at Tiahuanaco, Bolivia.
---
For more information:
The Megalithic Portal is an online resource devoted to prehistoric archaeology and related subjects.
World Pilgrimage Site – National Geographic photographer and anthropologist Martin Gray discusses the mythology, archaeology and history of sacred sites with maps of more than 2000 sites.