A women's tour across Turkey "In the Center of the Circle of the Goddess"
by Mary Ann Moore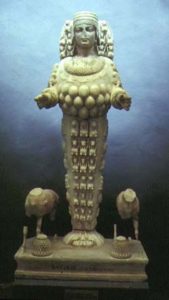 When I travel to ancient goddess-centred sites, I do so in the company of women. I want to recreate those peaceful communities of the past when women celebrated, shared stories and worked together, finding sacred in the every day. My study of goddess spirituality has been a linking of the intellectual study of ancient cultures with spiritual, women-centred journeys where memory and intuition are as important as the conclusions of archaeologists.
For two weeks in the spring of 1998, I was one of 35 women traveling through Turkey from the spice markets of Istanbul to the Museum of Anatolian Civilizations in Ankara. We saw Rumi's tomb in Konya, the cave sanctuaries of Göreme and 9000 year old Çatal Höyük where the Great Mother Goddess was worshipped. Our journey ended in Selçuk (pronounced SELL-juck) seeing Artemis at the Selçuk Museum and the remains of her temple at Ephesus.
It was the end of the journey. We had been "In the Circle of the Goddess" touring, dancing, uncovering stories about Turkey and ourselves. One of the things I learned on this journey or perhaps it brought it home for me is the value of our personal intent and our trust in a Bigger Plan. My intent for the journey had been to embrace the full body of the Goddess. I meant a celebration of largeness like the Great Mother of Çatal Höyük and the sensuous goddesses of Haçilar. What I got to celebrate was the Goddess in her changing form as held sacred by the people of Anatolia from the Great Mother to Kubaba, Kybele and finally to Kybele as adapted by the Greeks of Ephesus: Artemis.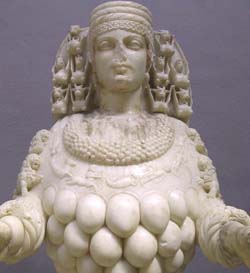 Before I was to see Ephesus, the 5000 year old site on the east coast of Turkey on the Aegean Sea, I visited the Museum of Ephesus in nearby Selçuk. Anxious to see Artemis, I saw the Great Artemis or Colossal Artemis first. Although the figure is made of marble she looked very golden in the museum light. Her arms are outstretched but her forearms are broken. I imagined her in her natural setting, outside the museum, surrounded by trees, deer grazing nearby and some wild poppies waving in the breeze. A smaller Artemis, called Artemis the Beautiful, was created about 50 years after the larger one. According to the experts, she is made from better quality marble and was originally gilded. Figures of Nike, an angel, decorate the upper section of her necklace, and signs of the zodiac decorate the lower section. At her feet, the toes of which are exposed, are two deer, her sacred animals. She looks beautiful in natural light, and her hands are intact.
Both figures of Artemis have three rows of egg shaped breasts. Eggs are a symbol of regeneration and fertility. Bulls were sacred to ancient cultures in Anatolia and in Crete as well as Ephesus, but the suggestion that the nipple-less breasts may be bulls' testicles is just too gruesome a thought to my 20th century disposition.
Artemis has always been identified with nature, wild animals, fertility and birth. She wasn't a mother but she was a midwife. The Ephesians believed she was the midwife who attended the birth of Alexander the Great. Artemis has been compared to Mary the mother of Jesus Christ. The Amazons, who worshipped Artemis, are believed to have named Ephesus after an Amazon queen. The statues in the Museum are rare beauties, but the spirit they represent had a greater impact for me. Before those figures were created the Amazons worshipped Artemis: her independence, her love of animals and children.
Our intent was to see where the Amazons and others had worshipped Artemis in all her forms. On the evening of our visit to the Museum we were to go to the Temple of Artemis for a farewell picnic dinner. When Atilla, one of our Turkish guides who looked after so many details for us (even lending us money when we couldn't get to a bank) went ahead to check out the site, he found the gate to the Temple of Artemis was locked. Our leader and teacher, Dr. Diane Sea Dancer Battung, insistent we have our final dinner at the site, told a woman in the hotel lobby about our predicament. The woman turned out to be a member of the Selçuk city council. The second of our Turkish guides, Beti, went off with Diane in the hotel car to make a special request to the mayor. Unable to rouse him, they contacted the Selçuk Museum and reached an assistant, who did not have the authority to open the gate. It seemed that only Artemis herself could open the gate, and she had other plans for us.
I was amazed at Diane's determination and intent for our final celebration. Her intent not only manifested the city council woman in the hotel lobby but also a bigger plan. We walked to one of the brightly lit streets of Selçuk, where we were served dinner outside, in view of the kilim and carpets, the painted plates, and the many treasures of Turkey. Diane had a surprise for we latecomers. We joined hands, and she danced us to a fountain of Artemis, where we circled a large statue of the Lady of the Beasts. Water was at her feet, and she was framed by columns and an arch, giving her honourable status. Diane said that Artemis didn't want us hidden away but in full view, in our ceremonial regalia.
Before the tour began, I feared that I might be lost in our large group of women. We were like whirling dirvishes, taking in as much as we could of the cities, towns and archaeological sites. We learned Turkish history and Diane Sea Dancer taught us, in the Sweet Medicine Tradition, along riverbanks and in hotel meeting rooms. Each woman had so much to offer in skills, talents and healing methods. Some were writers too and I wanted to hear of their projects. It was also important to me that they see me. As we said good-bye in Selçuk, the day after our farewell dinner, I found out that they had seen me in my poetry, read to them on our tour bus, and at a Sufi evening. They saw my calm in the midst of chaos, during an event-and site-filled tour.
One especially chaotic night occurred during our second week together. There weren't enough rooms in a village for all of us, so some had to go back to a hotel in Kaê, the nearby town on the Mediterranean. Three of us, all poets, decided to stay put in the village, share a room and read our poems to one another. We insisted upon that several times while room arrangements were being figured out, and we succeeded. We stayed in our room, two of us under mosquito nets (not really necessary until later in the summer.) In the midst of chaos, we read our poems and laughed into the wee hours.
I learned how to be still in the centre of chaos. I drank my bottled water and drank in the sights and sounds of Turkey. It was my groundedness and centredness that gave me the visibility within my group that I had wanted. I also learned that chaos is the centre. Diane taught us about the medicine wheel, with its four directions and, in its centre, the void where all things are possible. She also used the wheel for problem solving and planning the many options from which we could choose. Chaos is a Greek word which Barbara Walker says "meant the Goddess herself in her state of 'eternal flux', when the fluid of her womb was not yet clotted into the formative state of a solid world". Chaos, according to Genesis 1:2, is the condition of the earth before creation, "without form" and "void". All things were possible! My option was to remain calm and observe. I visualized putting many of the images, sounds and experiences into a box at home, where I could pull them at my leisure and savor them, one at a time.
My fellow poets, Lisa and Rosa, had stayed behind for an extra day in Selçuk the day after our group farewell dinner. In a few hours I would have to leave for a village in southern Turkey where I would spend another week. How much could we see in that short time? We asked for a taxi at the hotel front desk, and we got the hotel driver and car. We wanted to go to Ephesus, but we also wanted to see the Temple of Artemis and Meryem Ana Evi, the Virgin Mary's house. The driver offered to take us to Mary's house and wait for us.
A German woman, Anna Katharine Emmerich, had a vision of a house where Mary spent her final days. The site is now a very popular place where tourists pay their respects to Mary's memory. In my Protestant upbringing I didn't see many images of Mary, but in recent years I am calmed by her presence. Whether Mary really spent her final days in the sanctuary 7 km from Ephesus isn't as important as the sacredness of the site. It has been sanctified by many people, who enter slowly and silently and leave their thanks and prayers to this Divine Mother.
Visiting Ephesus with my two poet pals was the ideal way to see this heavily touristed site. I was exhausted and actually in pain, as two weeks of travel had aggravated the arthritis which I am determined to rid myself of. My companions assisted me, and we focused on the essence. Although the Celsus Library is the most talked-about ruin, certain images stood out: the spirals; a heart in the mosaics; Nike, with a sheaf of wheat and a laurel wreath. Our calm in the midst of chaos reminded me of the Sufi dancing we had done earlier on the journey, when I spun around on my right foot, with my left hand turned towards the earth and my right to the sky. I focused on my left hand but could see the world whirling by as I revolved on my own axis.
As important as the remains of buildings and statues are the memories we cannot see. In 54 ce, the silversmith Demetrius invited the people of Ephesus to go to the great theatre, where St. Paul preached that "gods made with hands are not gods at all", words which threatened the lucrative trade in silver images of Artemis. Did Paul mean that gods made by hand, by the silversmiths for instance, are not gods, or that gods with hands are not gods? One of the figures of Artemis does not have any hands, nor does the figure of Mary in the sanctuary of Meryem. I was reminded that the figures are representations of aspects of the Goddess. We Goddess celebrants don't worship idols, and I don't think the Amazons or Ephesians did either.
Paul failed to calm the rowdy crowd who chanted "Great is Artemis of the Ephesians". Nevertheless, Paul eventually got his message across. We are only now uncovering the goddesses whose stories have been denied us for 2000 years. In the same theatre where St. Paul preached, my two friends, an environmentalist from Canada and I sang "Sister, sister, take your time go slowly, have a look inside yourself, every hour is holy." It's from that quiet that we could try to remember our own spiritual journey and the rich, hopeful stories of Earth-based, Goddess-centred cultures.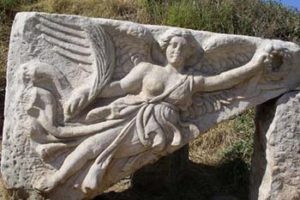 We still wanted to see the Temple of Artemis, and our driver took us there. The gate was open, but the area was flooded. It would not have been an ideal place for our evening candlelight dinner. Of the majesty that was the shrine to Artemis of the Ephesians only one column survives. The temple had been one of the largest marble structures ever built. This was the apex of our journey. We had started in Istanbul with the Aya Sofya, which began as a church dedicated to Sophia, was converted to a mosque and is now a museum. It is supported by six marble columns taken from the Temple of Artemis, one of the seven wonders of the ancient world. Those green marble columns, cool to the touch and indented by the hands of many, gave us an inkling of how grand the temple had once been. Present day civilization and a duck pond now surround the single remaining column in Ephesus. Further excavations are going on, and much more may be uncovered. I believe we can also dig deeper within ourselves to uncover many more stories of goddess-centred cultures.
The Temple of Artemis was destroyed and reconstructed seven times. It was last destroyed by the Goths in 265 ce. I was interested to read that during one of the destructions of the Temple of Artemis, a poet named Callinus stopped the invading Cimmerians from pillaging Ephesus by reciting poetry.
A sacred site can be enhanced by centuries of spiritual seekers. Ephesus was where people came to worship the Goddess and thank Her for Her bounty. Pilgrims to Ephesus have known Her as Kybele, Artemis and Diana. Today's pilgrims, such as those "In the Circle of the Goddess" join Christians, Muslims and Jews who come to give, receive and remember. To appreciate sacred Ephesus one needs to breathe deeply, be calm and open, not only during your journey but also when your pilgrimage has ended. Many insights may only be realized upon reflection some time after a journey is over.
Selçuk and nearby Ephesus are located on the western coast of Turkey on the Aegean Sea, an hour away from the airport at Izmir with connected flights to Istanbul. The tour that Mary Ann Moore was part of was called "In the Circle of the Goddess," a women's odyssey of memory and adventure through the crescent moon of Turkey. For further information about future tours contact Beti Geron Minkin of Tohum Travel, P.O. Box 972, Bernardston, Massachusetts. Tel: 413-774-4140, Fax: 413-774-4634, email: tohumtravel@shaysnet.com
About the author:
Writer Mary Ann Moore now lives in Nanaimo, British Columbia, Canada.  She has written about her travels in Turkey in Mapping Your Spiritual Journey, self-guiding writing materials you can order directly from her by email at flyingm@interlog.com or by telephone at 250-729-2630. www.retreatsonline.net/flyingmermaids
This article was originally published in the December/January 1999 issue of Power Trips magazine, and is re-printed with permission from the author.